salut
Voici une nouvelle version de mon logiciel d'animation vectoriel.
Vous pouvez désormais trouver des informations sur ce logiciel sur SourceForge :
https://sourceforge.net/projects/cartoonanimation/
Ou directement le télécharger :
https://sourceforge.net/projects/cartoonanimation/files/latest/download?source=files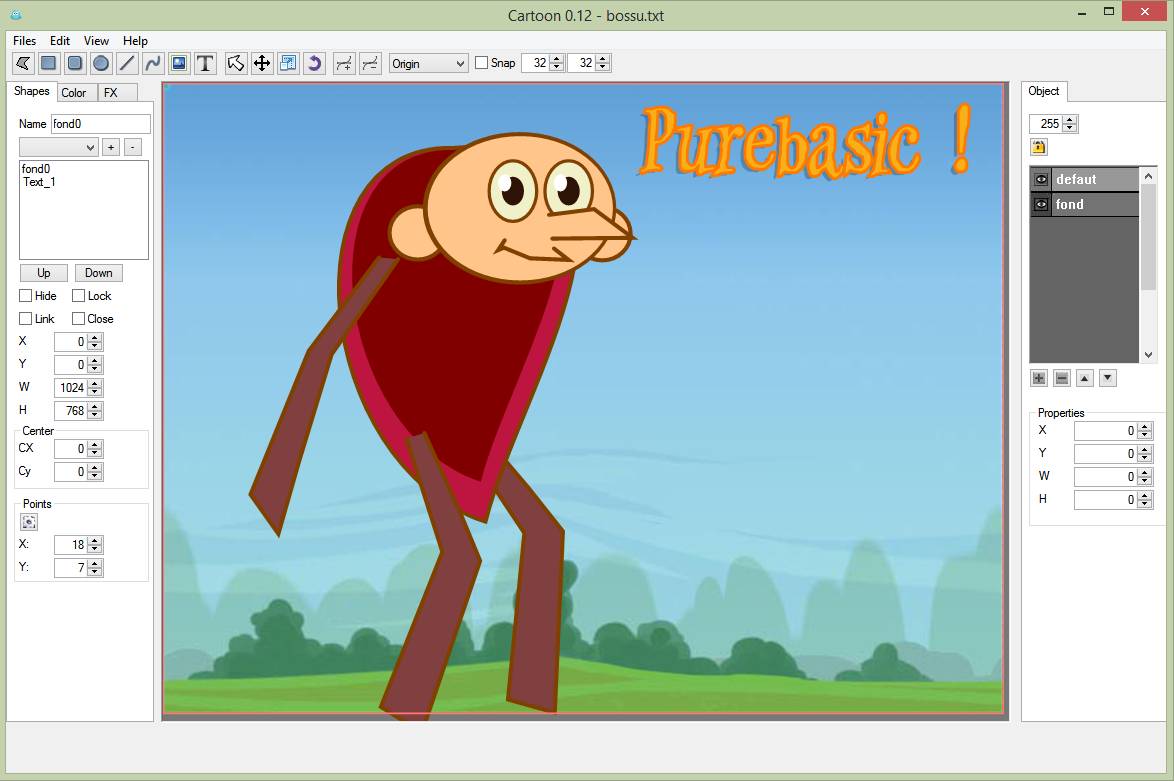 ChangeLogs :
V 0.13 (09/04/2016)
// New
- Load Preset Fx
- Object-Layer : now, shape position use the position of the Object-Layer (x,y in "object" panel)
- Object-Layer : size of the layer (w,h) can be changed. Be carefull, for the moment, it's not fine if the view isn't 0,0
- File> save, load : shape image ok
- Options > Change bg color
- Options > BG checker
// Fixes
- the depth of the shape is ok now
- when add a complex shape, it erase the old shape
- when open a file, the layer isn't used as active
- sometimes, add a new shape erase the name of the layer
- when multiselect, selection for complexe shape hasn't the good position
- deselect all > didn't deselect the current shapeId
- various little bugfixes
V 0.12 (08/04/2016)
// New
- Add ExportPbCommand() : export circle, box, complex shape
- we can close or open the path (checkbox "close")
- Point (in panel shape) : button menu
Not finished :
- popup menu (pt) : only deletepoint
// Changes
- save & load : add the x & y for the shape
// Fixes
- scale didn't work with box, ellipse, image,text
- move : use the x & y of the shape, et doesn't change the position of the point
- creation of shape : now use the mouseX/mousey for x/y, for shape box,ellipse,text,image,roundbox
- move : the image didn't move with the move tool
- fixe a bug with the down buton for shape depth
- the selected shape wasn't drawn with dashpath
- when line, we don't have to move the 3 points when selecting a point
- when creation shape complexe : it erase the shape0 of the current object
- various bugfixes
V 0.11 (06/04/2016)
// New
- Shape : link -> to know if the path is "closed" after the previous shape
- Shape : hide, lock
// Fixes
- when we add a new complexe shape, and another one was selected, the other is scaled if we increase the size of the new .
- fixe a crash when select an object without shape
- when delete a shape if the layer was empty, it deleted the shape of the previous layer
- when mouse over a shape, it select the shape even if the shape wasn't on the selected object