Thanks RSBasic ,
Now how to add Text to the scene using OpenglGadget ?, i have used the functions posted by hagibaba in Nehe lesson 13
https://www.purebasic.fr/english/viewtopic.php?f=12&t=25317
to let that example works in PB 5.70 just comment lines 11 + 15 , to switch to windowed screen press F1. the example itself is a treasure and fun for the windows experts in the forum.
it is hard to mix text with graphics, here is my last attempt.
to draw data from -1 to +1 vhange line 143 to glOrtho_(-1,1,-1,1,-1,1)
for -3 to +3 change it to glOrtho_(-3,3,-3,3,-3,3)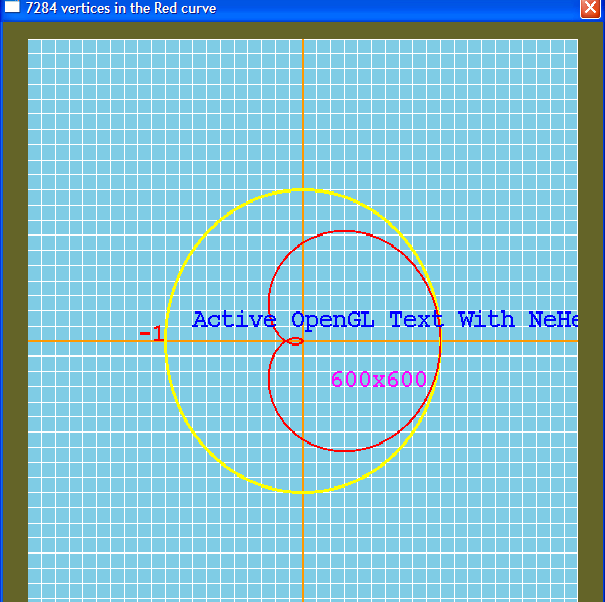 tested with PB 5.70 LTS win7_x64
Code:
EnableExplicit

Declare FillCurveData()
Declare FillCircleData()
Declare AxisData()
Declare drawGrid(width.f, height.f, grid_width.f)

Declare DrawCurve()

Structure vertices
x.f
y.f
z.f
r.f
g.f
b.f
a.f
EndStructure


Global Dim vert.vertices(500000) ; for the CurveData
Global Dim vert2.vertices(500000) ; for the CircleData()
Global Dim vert3.vertices(4) ; for the x-y axis
Global Dim vert4.vertices(1000) ; for the Grid

Global v1.vertices
Global v2.vertices

Global ro, ro2, event, rot

Global hDC.l ;Private GDI Device Context
Global hRC.l ;Permanent Rendering Context
Global hWnd.l ;Holds Our Window Handle
Global hInstance.l ;Holds The Instance Of The Application

Global Dim keys.b(256) ;Array Used For The Keyboard Routine
Global active.b=#True ;Window Active Flag Set To TRUE By Default
Global fullscreen.b=#True ;Fullscreen Flag Set To Fullscreen Mode By Default

Global base.l ;Base Display List For The Font Set

Global swidth.l ;screen width (Note: added code to print window size)
Global sheight.l ;screen height
Global width.l = 600
Global height.l = 600
swidth = width
sheight = height

OpenWindow(0, 0, 0, width, height, "OpenGL fonts", #PB_Window_SystemMenu | #PB_Window_ScreenCentered)
SetWindowColor(0, RGB(100,100,40))
OpenGLGadget(0, 25, 15, 550, 550, #PB_OpenGL_Keyboard)

hDC=GetDC_(WindowID(0))

FillCurveData()
FillCircleData()
AxisData()
drawGrid(5.0, 3.0, 0.1) ; drawGrid(width.f, height.f, grid_width.f)

;wingdi.h constants
#ANTIALIASED_QUALITY=4 ;for CreateFont_()
#DM_BITSPERPEL=$40000
#DM_PELSWIDTH=$80000
#DM_PELSHEIGHT=$100000


Procedure BuildFont(name.s,height.l,bold.l,italic.b,symbol.l) ;Build Our Bitmap Font
;BuildFont("Courier New",24,1,0,0) ;Build The Font
Protected font.l ;Windows Font ID
Protected oldfont.l ;Used For Good House Keeping

If bold : bold=#FW_BOLD : Else : bold=#FW_NORMAL : EndIf ;font weight
If symbol : symbol=#SYMBOL_CHARSET : Else : symbol=#ANSI_CHARSET : EndIf ;character set

base=glGenLists_(96) ;Storage For 96 Characters

;CreateFont_(Height, Width, Angle Of Escapement, Orientation Angle, Weight, Italic, Underline, Strikeout, Character Set, Output Precision, Clipping Precision, Output Quality, Family And Pitch, Name)
font=CreateFont_(-height,0,0,0,bold,italic,#False,#False,symbol,#OUT_TT_PRECIS,#CLIP_DEFAULT_PRECIS,#ANTIALIASED_QUALITY,#FF_DONTCARE | #DEFAULT_PITCH,name)

oldfont=SelectObject_(hDC,font) ;Selects The Font We Want
wglUseFontBitmaps_(hDC,32,96,base) ;Builds 96 Characters Starting At Character 32
SelectObject_(hDC,oldfont) ;reselect the old font again
DeleteObject_(font) ;Delete The Font

EndProcedure

Procedure KillFont() ;Delete The Font List

glDeleteLists_(base,96) ;Delete All 96 Characters

EndProcedure

Procedure glPrint(text.s) ;Custom GL "Print" Routine

If text="" ;If There's No Text
ProcedureReturn #False ;Do Nothing
EndIf

glPushAttrib_(#GL_LIST_BIT) ;Pushes The Display List Bits
glListBase_(base-32) ;Sets The Base Character to 32
glCallLists_(Len(text),#GL_UNSIGNED_BYTE,text) ;Draws The Display List Text
glPopAttrib_() ;Pops The Display List Bits

EndProcedure

Procedure.l InitGL() ;All Setup For OpenGL Goes Here

;BuildFont(name,height,bold,italic,symbol)
BuildFont("Courier New",24,1,0,0) ;Build The Font

glShadeModel_(#GL_SMOOTH) ;Enable Smooth Shading
glClearColor_(0.0,0.0,0.0,0.5) ;Black Background
glClearDepth_(1.0) ;Depth Buffer Setup
glEnable_(#GL_DEPTH_TEST) ;Enables Depth Testing
glDepthFunc_(#GL_LEQUAL) ;The Type Of Depth Testing To Do
glHint_(#GL_PERSPECTIVE_CORRECTION_HINT,#GL_NICEST) ;Really Nice Perspective Calculations

ProcedureReturn #True ;Initialization Went OK

EndProcedure

InitGL()

glEnable_(#GL_POINT_SMOOTH);
glHint_(#GL_POINT_SMOOTH_HINT, #GL_NICEST);
glEnable_(#GL_LINE_WIDTH)
glEnable_(#GL_LINE_SMOOTH);
glHint_(#GL_LINE_SMOOTH_HINT, #GL_NICEST)

Repeat

event = WindowEvent()

rot+1
;glViewport_(0, 0, WindowWidth(0), WindowHeight(0))
glClear_(#GL_COLOR_BUFFER_BIT | #GL_DEPTH_BUFFER_BIT)

glMatrixMode_(#GL_PROJECTION)
glLoadIdentity_()
;gluOrtho2D_(-1, 1, -1, 1)
;gluOrtho2D_(-2, 2, -2, 2)
;glOrtho_(-1,1,-1,1,-1,1)
glOrtho_(-2,2,-2,2,-2,2)
;glOrtho_(-3,3,-3,3,-3,3)
gluPerspective_(90.0, 1, 0.1, 100.0) ; essential to see the text
glMatrixMode_(#GL_MODELVIEW)
;============================================

glLoadIdentity_()
glPushMatrix_()
;glTranslatef_(0, 0, -1)
DrawCurve()
glPopMatrix_()
;----------------------------------------------
glPushMatrix_()
glLoadIdentity_()
glTranslatef_(0.0,0.0,-10) ;Move 10 Units Into The Screen

glColor3f_(0,0,1)
glRasterPos2f_(-8, 1)
glPrint("Active OpenGL Text With NeHe - ") ;Print GL Text To The Screen

glColor3f_(1,0,1)
glRasterPos2f_(2,-3) ;position text 2 across, -3 down
glPrint(Str(swidth)+"x"+Str(sheight)+" ") ;print window size at 2,-3

glColor3f_(1,0,0)
glRasterPos2f_(-12, 0)
glPrint("-1 ")

glPopMatrix_()

Delay(10)

SetGadgetAttribute(0, #PB_OpenGL_FlipBuffers, #True)
Until event = #PB_Event_CloseWindow
KillFont()


Procedure FillCurveData()
Protected.l b = 0
Protected.f x, y, inc, t ,q

inc = 0.001
t.f = -1
While t <= 2*#PI
;Cayley's_sextic curve parametric equations
x.f = Pow(Cos(t),3)* Cos(3*t)
y.f = Pow(Cos(t),3)* Sin(3*t)


vert(b)\x = x ; position
vert(b)\y = y

vert(b)\r = 1 ; color red
vert(b)\g = 0
vert(b)\b = 0

t + inc
b + 1

Wend

ReDim vert.vertices(b)

SetWindowTitle(0, Str(b)+" vertices in the Red curve")

EndProcedure

Procedure FillCircleData()
Protected b = 0
Protected.f x, y, inc, t
inc = 0.001

While t<=2*#PI
vert2(b)\r = 1 :vert2(b)\g = 1 :vert2(b)\b = 0
; Circle parametric equations
vert2(b)\x = Cos(t)*1
vert2(b)\y = Sin(t)*1

t + inc
b + 1

Wend


ReDim vert2.vertices(b)

EndProcedure

Procedure AxisData()

;Data For the perpendicular coordinates x-y
; Horizontal Blue Line
vert3(0)\r = 1.0 :vert3(0)\g = 0.6 : vert3(0)\b = 0
vert3(0)\x = -#PI: vert3(0)\y = 0
vert3(1)\r = 1.0 :vert3(1)\g = 0.6 : vert3(1)\b = 0
vert3(1)\x = #PI: vert3(1)\y = 0

;Vertical Blue Line
vert3(2)\r = 1 :vert3(2)\g = 0.6 : vert3(2)\b = 0
vert3(2)\x = 0: vert3(2)\y = -#PI
vert3(3)\r = 1 :vert3(3)\g = 0.6 : vert3(3)\b = 0
vert3(3)\x = 0: vert3(3)\y = #PI
EndProcedure

Procedure drawGrid(width.f, height.f, grid_width.f)
;horizontal lines
;For(float i=-height; i<height; i+=grid_width){
Protected b=0
Protected.f i = -height
While i < height
;Vertex v1 = {-width, i, 0.0f, 1.0f, 1.0f, 1.0f, 1.0f};
v1\x = -width: v1\y= i
v1\r=1 : v1\g=1: v1\b =1 : v1\a = 1
;Vertex v2 = {width, i, 0.0f, 1.0f, 1.0f, 1.0f, 1.0f};
v2\x = width: v2\y= i
v2\r=1 : v2\g=1: v2\b =1 : v2\a = 1

;drawLineSegment(@v1, @v2, 1)
vert4(b)\r = v1\r :vert4(b)\g = v1\g :vert4(b)\b = v1\b
vert4(b)\x = v1\x
vert4(b)\y = v1\y
b+1
vert4(b)\r = v1\r :vert4(b)\g = v1\g :vert4(b)\b = v1\b
vert4(b)\x = v2\x
vert4(b)\y = v2\y

b + 1;
i + grid_width
Wend

;vertical lines
;for(float i=-width; i<width; i+=grid_width){
i.f = -width

While i < width
;Vertex v1 = {i, -height, 0.0f, 1.0f, 1.0f, 1.0f, 1.0f};
v1\x = i: v1\y= -height
v1\r=1 : v1\g=1: v1\b =1 : v1\a = 1
;Vertex v2 = {i, height, 0.0f, 1.0f, 1.0f, 1.0f, 1.0f};
v2\x = i: v2\y= height
v2\r=1 : v2\g=1: v2\b =1 : v2\a = 1

;drawLineSegment(@v1, @v2, 1)
vert4(b)\r = v1\r :vert4(b)\g = v1\g :vert4(b)\b = v1\b
vert4(b)\x = v1\x
vert4(b)\y = v1\y
b+1
vert4(b)\r = v1\r :vert4(b)\g = v1\g :vert4(b)\b = v1\b
vert4(b)\x = v2\x
vert4(b)\y = v2\y

i + grid_width
b+1
Wend
ReDim vert4.vertices(b)
EndProcedure

Procedure DrawCurve()
;SetGadgetAttribute(0, #PB_OpenGL_SetContext, #True)
;glClearColor_(0.2, 0.2, 0.1, 1.0) ; background color
glClearColor_(0.5, 0.8, 0.9, 0.0) ; background color
gluLookAt_(0.0, 0.0, 1.0, 0.0, 0.0, 0.0, 0.0, 1.0, 0.0)
glClear_(#GL_COLOR_BUFFER_BIT | #GL_DEPTH_BUFFER_BIT)

glEnableClientState_(#GL_VERTEX_ARRAY)
glEnableClientState_(#GL_COLOR_ARRAY)


glDisable_(#GL_LINE_SMOOTH)
;draw the Grid
glVertexPointer_(2, #GL_FLOAT, SizeOf(vertices), @vert4(0)\x)
glColorPointer_(4, #GL_FLOAT, SizeOf(vertices), @vert4(0)\r)
glLineWidth_(1)
glDrawArrays_(#GL_LINES, 0, ArraySize(vert4()))

glEnable_(#GL_LINE_WIDTH)
glEnable_(#GL_LINE_SMOOTH);
glHint_(#GL_LINE_SMOOTH_HINT, #GL_NICEST)
;plot the perpendicular x-y Lines
glVertexPointer_(2, #GL_FLOAT, SizeOf(vertices), @vert3(0)\x)
glColorPointer_(4, #GL_FLOAT, SizeOf(vertices), @vert3(0)\r)
glLineWidth_(2)
glDrawArrays_(#GL_LINES, 0, ArraySize(vert3()))

;circle
glVertexPointer_(2, #GL_FLOAT, SizeOf(vertices), @vert2(0)\x)
glColorPointer_(4, #GL_FLOAT, SizeOf(vertices), @vert2(0)\r)
glLineWidth_(2)
glDrawArrays_(#GL_LINE_STRIP, 0, ArraySize(vert2()))
;glDrawArrays_(#GL_LINES, 0, ArraySize(vert2()))
;glDrawArrays_(#GL_POINTS, 0, ArraySize(vert2()))


ro+1
glRotatef_(ro, 0, 0, 1)
;Cayley's_sextic Curve
glVertexPointer_(2, #GL_FLOAT, SizeOf(vertices), @vert(0)\x)
glColorPointer_(4, #GL_FLOAT, SizeOf(vertices), @vert(0)\r)
glLineWidth_(1)
glDrawArrays_(#GL_LINE_STRIP, 0, ArraySize(vert()))
;glDrawArrays_(#GL_POINTS, 0, ArraySize(vert()))

glDisableClientState_(#GL_COLOR_ARRAY)
glDisableClientState_(#GL_VERTEX_ARRAY)

EndProcedure