Hello!
I've got a nice new IDE tool to share... I know it's not very original (yet another PB-to-HTML converter) but hopefully this one has the easiest-to-use GUI and the most features.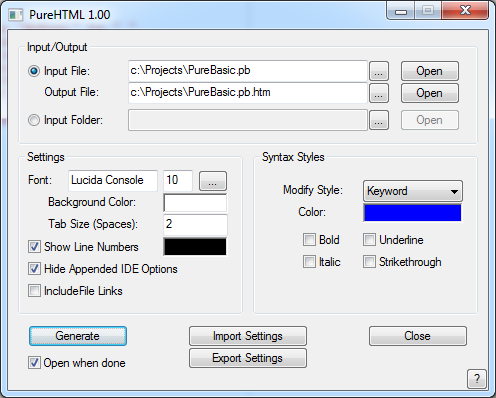 Features:
- quickly convert a single file (or a folder of them) into nicely formatted HTML pages
- configure 14 code styles, including optional line numbers style
- automatically turn IncludeFile, IncludeBinary, etc. into HTML links
- (when run from IDE) your syntax styles, current source path, and DLL path should be automatically detected
- colors can be copy/pasted (via right-click menu on those colored CanvasGadgets)
- import/export settings to "prefs" files which are (mostly) compatible with the IDE
- source is included!
Important Notes:
- I've only tested it on Windows, but feel free to get it working on Mac/Linux
- it requires the Syntax Highlighting library included in your PB installation (SyntaxHilighting.dll on Windows)
Example output:
here
Download:
here
I hope you find it useful, it's been sitting around for a while and I finally got around to putting it online.