...
PureBasic v5.20 final (LTS) released
Fantasie Software released an absolutely great update of the PureBasic package yesterday. After a longer beta-test phase this new version brings a
long list of great additions
- only some examples: new Module support (allowing name-spaces in PureBasic sources), new Dialog and Runtime libraries (allowing easier GUI creation using an XML description with automatic resizing...), BindEvent support (attach procedures directly to specific GUI events), GTK3 on Linux, DirectX 11 on Windows, many improvements to 2D and 3D graphics, etc. - see the complete list in the History!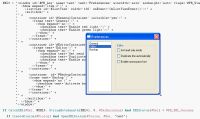 GUI creation using the new Dialog library (using XML-based definition)
Furthermore a new service was introduced with this new version: "
LTS
" means "
Long-time service
" - for 2 years (until 17th Sept. 2015) the v5.20 will stay with its current functionality and syntax, but bug-fixes will be done for this version. In the meantime PureBasic evolves further and new versions (PB 5.30...) including this bug-fixes, but also new functions, probably (small!) syntax changes, etc. will be released. So everyone can use what he like - probably stay with PB5.20 LTS for maintaining his actual project, and use future PB versions for new projects...
And best of all - you buy the full-version licence once, but you will get every update and
every new version
(for all supported OS)
for free
!! Get your full version licence now!
You should also take a look to the
PureBasic Blog
. There Fred and freak released interesting articles about API changes and the new Module support. You also find the article about the "Anti-virus plague" (where AV tools are complaining about false positives in PB executables) there.
Show your PureBasic game or application to the community and post it in the
PureArea.net Showcase
! So other PB users can rate and comment your project... Thanks!